How We Balanced a 61-Year Long Pet Allergy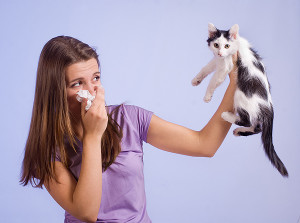 How We Balanced a 61-Year Long Pet Reaction
Barb had suffered with a cat allergy for 61 years. It was a normal routine for her to keep her distance or to wash her hands and face after contact. Barb decided to come to me for some relief after taking in a sweet, homeless cat.
Testing for this issue was pretty straightforward because she already knew the cause of her reaction. I had asked her to bring a sample of her cat's fur and we muscle tested it along with several generic cat vials and some immune system vials which included histamine. The results indicated a very high reaction to both the cat fur sample and vials but also histamine; which means her immune system was in overdrive and her reactions were heightened.
We placed all problematic vials and samples on the machine and balanced her body against them. The whole appointment lasted approximately 30 minutes. Several days later I received communication from Barb that she could cuddle her cat and was no longer reacting. She only needed one appointment and the problem was resolved.
Here is Barb's testimonial:
"It is such a relief to be able to pick up my cat and cuddle him without having to rush to the bathroom to wash my hands and face. In the past my eyes would have started to water, my nose would run and I'd feel incredibly itchy. After 61 years of this, ONE visit with you and my suffering is gone! Jocelyne, I just wanted to thank you."
Barb W, London Ontario
If you suffer from a pet allergy, Contact Us and give Bioenergetics a try.
If you know of someone who does, please pass along this wonderful testimonial.
Many more testimonials can be seen here.